Apr 19, 2021
Day 20 of 100 Days to Offload
Zuko Picture of the Week
What Happened
Watched my first F1 race. My friends pulled me into participating in Fantasy F1. I don't know anything about F1 but it was fun creating my teams with what little knowledge I have (I created a Mazespin team for the meme). The actual race was quite fun. It was raining on the track so things were a bit chaotic. Lewis Hamilton was in first place and then he crashed. Then two other drivers crashed into each other. So much excitement.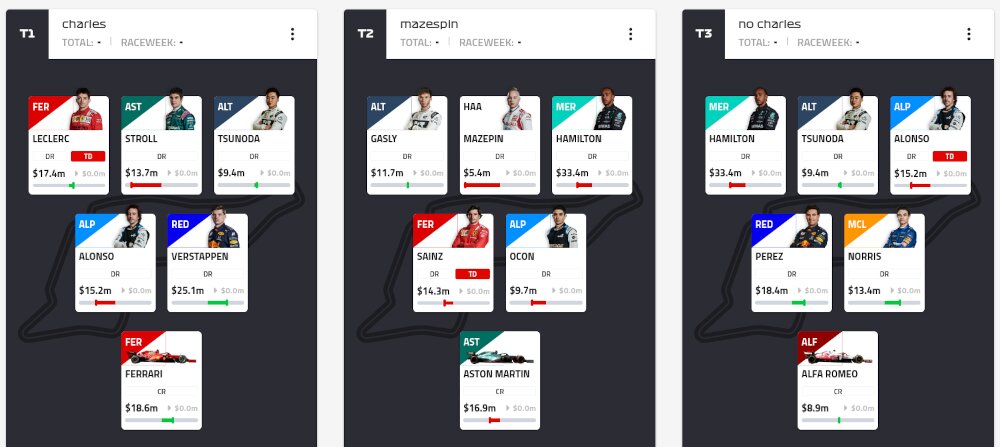 Trying FocusMate (virtual coworking) for the second time. It seems to be working well so far. I've only had two sessions and I find it to be quite awkward talking to strangers like every session but hopefully I get better at that part.

I joined Habitica (can you tell I'm on a productivity kick? we'll see how long this lasts) and I finally got around to fleshing out my setup. It's fun so far and quite cute.
Goals Review
I forgot about these. I'm trying my best to rectify this and rededicate myself.
Lose weight

Plan is to meal prep some chicken and broccoli today.

Read more

I eat at my desk too much. So I've made a point to eat at my dinner table. I have a book on the table so I read while I eat. Often times, I find that I keep reading even after I finish eating. Right now I'm reading Daughter of Fortune by Isabel Allende.

Waste less time

FocusMate has been a good recommitment of goals. I have booked a morning session to do some Japanese and an evening session to do a word sprint. I plan to sprinkle more sessions throughout the day whenever I feel like it.
This Week's Tunes by Playcount
Top Artists
L'Arc~en~Ciel
downy
Mashrou' Leila
Alexisonfire
DIR EN GREY
FKA twigs
EMI MARIA
Snail Mail
Ride
Daichi Miura
These are all pretty typical artists for me. Ride is a band one of my friends recommended me. I took a listen to them and they're quite good. I need to listen to more shoegaze.
I lurk a lot on Arama Japan and someone mentioned Daichi Miura's latest singles being really good. I already really like Daichi Miura (he has such a nice voice) but his latest singles are really good. I can't stop listening to them.
Top Albums
第七作品集『無題』 by downy
Ibn El Leil by Mashrou' Leila
The Beirut School by Mashrou' Leila
Lush by Snail Mail
Tierra by L'Arc~en~Ciel
MAGDALENE by FKA twigs
The Insulated World by DIR EN GREY
Nowhere by Ride
True by L'Arc~en~Ciel
Old Crows/Young Cardinals by Alexisonfire
Top Tracks
角砂糖 by downy
STAR by BiSH
About You by Daichi Miura
Because of You by AISHA
One Last Kiss by Hikaru Utada
シャンディ by Ling tosite sigure
forbidden lover by L'Arc~en~Ciel
砂上、燃ユ。残像 by downy
Wish You Were Here by CL
1 2 3 4 5 6 by Kalbells
Okay, About You is super good. It has a sultry sexy The Weeknd vibe. The chorus still jars me though because Daichi Miura goes into a falsetto that is quite high for him and I don't understand it in the context of the song. I still jive with it though.
STAR is a recent single from BiSH and it's really reminds me of stuff from their FAKE METAL JACKET album. I can never turn down a nice rock ballad.
Utada Hikaru is an icon, all of her singles from the past year have been bangers. Her last song for the Evangelion franchise, One Last Kiss is no exception. It has such a fresh vibe. I love her.
I was surprised to see that I've listened to シャンディ so much. It's a good song. I don't know how to describe Ling tosite sigure. They have such a distinct sound, TK's voice aside. They have like math rock elements which I really dig. I'm listening to シャンディ right now and I really should dig into their discography more.
Another gem I found from lurking on Arama was キミのせいで or Because of You by AISHA. I've never heard of AISHA before. She reminds me of early R&B Utada Hikaru. A very chill vibe with this song and super singable (AKA lots of repeating lyrics).