Oct 31, 2018
So this year I went to a bunch of concerts. Two of those concerts (Alexisonfire and Coheed and Cambria) were big wish listers for me and this got me thinking. What other artists do I want to see live?
L'Arc~en~Ciel
I know for sure that I want to see L'Arc~en~Ciel live in concert. L'Arc~en~Ciel is a band I got into around junior high. Thanks to the power of the Internet, I know approximately the first time I fell in love with L'Arc~en~Ciel. I used to watch anime all the time on YTV, one of the cartoon networks in Canada. They aired Fullmetal Alchemist the Movie: Conqueror of Shamballa on October 19, 2007 where L'Arc did two songs on the soundtrack and I loved them immediately.
I remember when L'Arc performed in Madison Square Garden a couple of years ago, I was insanely jealous. I watched the footage, the concert reviews, the fan interviews and bawled my eyes out. Even now, the mere thought of the possibility of seeing L'Arc~en~Ciel live in concert is bringing tears to my eyes. Actually, at this moment I'm listening to their 25th Anniversary live disc and I'm very emotional right now (yes, this is what spurred this post).
And a couple years ago, when they were planning their world tour they asked for suggestions for cities to go to and I spammed Canadian cities so hard. Of course, they never came. But I so desperately want to see them live one day.
L'Arc~en~Ciel is definitely a classic band for me. I remember making this post a like six years ago on Tumblr (god, remember all the confession tumblrs back then??). It's still true to this day.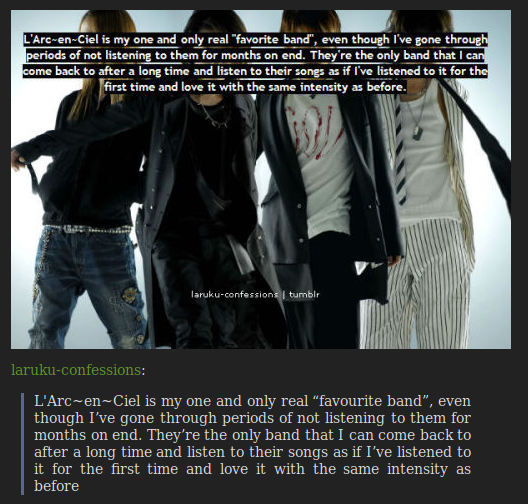 I say "I can die happy now" after like every concert I've been to but seeing L'Arc~en~Ciel would be the concert that would actually make the statement true. I've been wanting to see them for 11 years now. I hope to god L'Arc~en~Ciel will continue touring until I can see them.
Björk
One of my friends asked once me who my musical goddess was (no joke) and when I answered with Björk he was surprised. "I thought it would be Beyonce," is what he replied. No offense to Beyonce (love her, she's amazing and empowering and makes great music) but she is definitely not on the level of artistry as Björk.
I remember watching TV in the dark late at night on MTV and Björk's Bachelorette came on. I was entranced. This big voice coming out of a rather small woman wearing jeans and what seemed like a dress. I listened to so much Björk ever since.
Admittedly, some of her latest music kinda flies over my head nowadays but what I would give to see her live in concert.
Joanna Newsom
Continuing the trend of amazing women musicians… Joanna Newsom. I would love to see her live as well. I remember my ex in high school was the one who introduced her to me. I thank god I never think about him whenever I listen to Joanna Newsom. Her music transcends silly things like temporary bonds.
Most of the songs I love, Joanna would probably never play live again (okay, I really just want to hear Only Skin which is a 16-minute epic) but it would definitely be cool to see her live. She doesn't do concert DVDs (as far as I can see) so most live footage I've seen have been shitty fan videos. I would want to hear harp live in action.
Green Day
This one is a little silly. I haven't really loved Green Day in years. A lot of their songs have aged even if I do enjoy them from time to time. But I want to fulfill 12 year old me's dream of seeing them in concert. I think it would definitely be a fun experience, they can put on a show.
Who Would I Not See Live?
I looked at my top artists on Last.fm and there are a couple of musicians who I love dearly but would probably be okay with not seeing them live.
DIR EN GREY is definitely one of those bands. While their music is banging, I've never liked watching their performances. If I had the chance to see them, I would do it but it's definitely not pressing.
Utada Hikaru is another artist. I love her but she is definitely a studio artist and not really great at performing. Her voice is a bit weak and it doesn't translate to great concerts. The Strokes is a band I wouldn't see for a similar reason. Their concerts always seem really lacking in energy. Julian Casablancas has a great voice regardless but they're usually just… Standing around on stage and engaging at all. They never seem like they're having fun.
My friend asked me to go see Thrice with him this February (I said no, mostly because he lives all the way in Australia). It would be a lot of fun to see Thrice but I'm not that dedicated of a fan to do so. I only really like one of their albums. I don't know much of their discography.
That being said, even if I wouldn't go out of my way to see these artists live (I would fly to Japan to see L'Arc~en~Ciel if I have to), I would totally go see them if it wasn't a hassle. Concerts are a lot of fun, even if you don't really know the band well or at all. Here's to hoping for more concert going in the future!