Jan 1, 2018
TL;DR/Highlights
I didn't accomplish as much as I would have liked this year. However, this year was extremely eventful.
Finished my internship and saved a lot of #MovingOut money
Started and finished self-esteem group therapy
Went to my first hackathon at Hack the North in Waterloo, Ontario
Attended both the Calgary Expo and Calgary Expo Holiday Market
Was a little more social this year
Ate a lot of good food (AKA went to a ton of restaurants and pubs)
Started crocheting and knitting
It's been a wild year. A lot of ups and downs. A lot of soul searching. I feel like I know more about myself and I have a clearer vision of the future that I want for myself.
Music Stats
I religiously track my music stats through Last.fm. Spotify also publishes stats. Time to look at my music habits! Since I largely stopped pirating music, I turned to Spotify. This explains why I have almost stopped listening to music from Asian countries as a lot of musicians don't have their music on Spotify. There are some exceptions though. AOA is a Korean pop group and CAPSULE is a Japanese electronic music duo and they made it into my top 5 songs.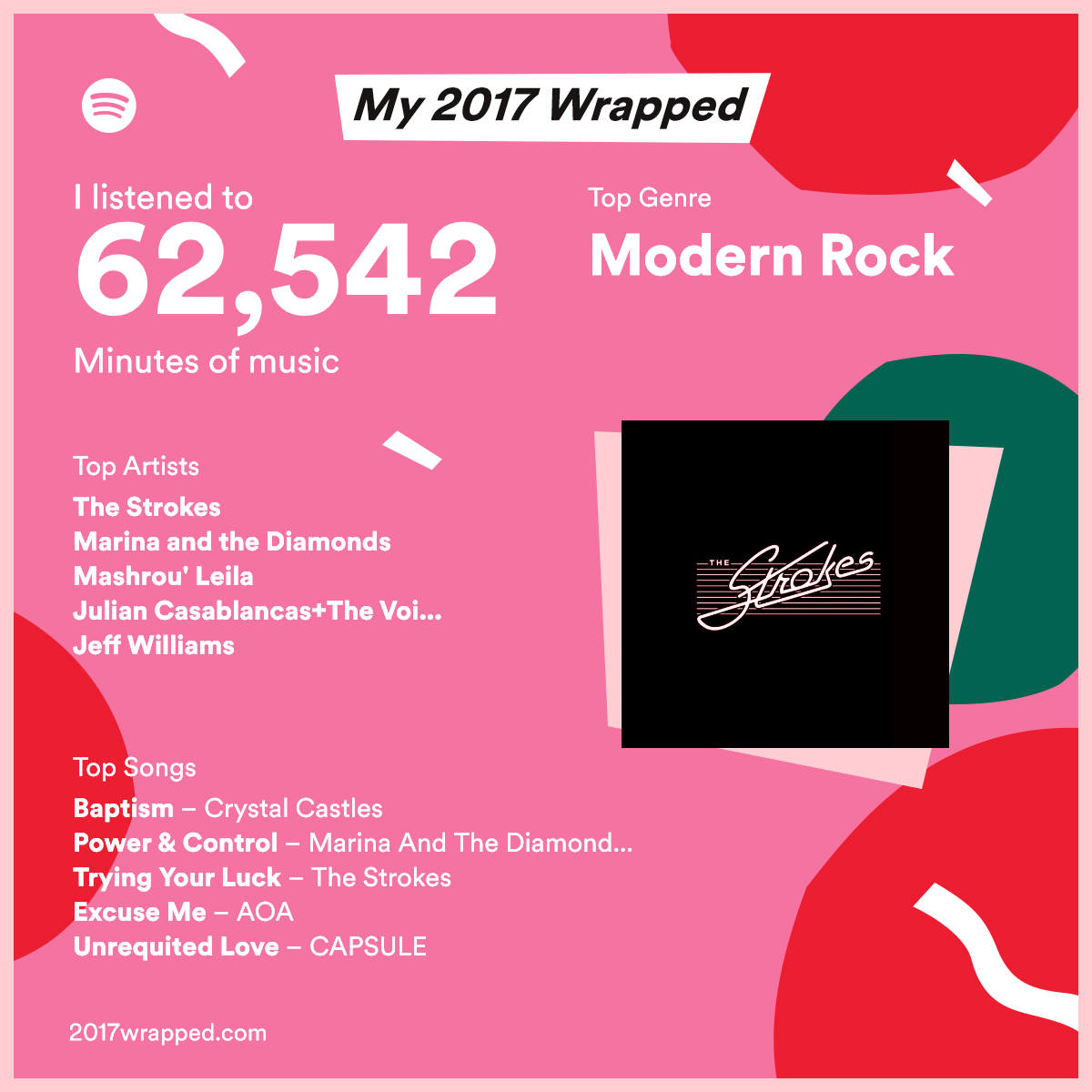 Top Artists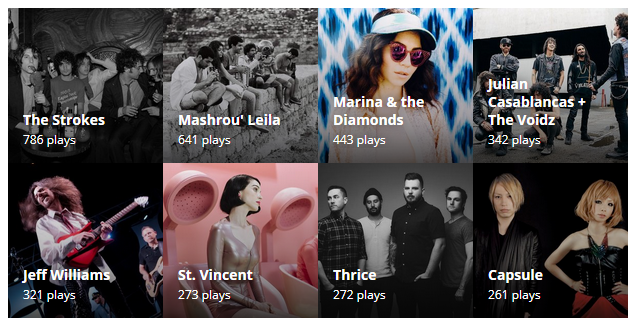 The Strokes

Marina and the Diamonds

Mashrou' Leila

Julian Casablancas+The Voidz

Jeff Williams

St. Vincent

Thrice

CAPSULE
Top Albums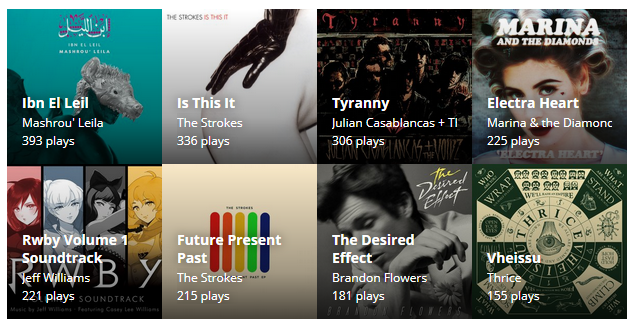 Ibn El Leil by Mashrou' Leila

Is This It by The Strokes

Tyranny by Julian Casablancas + The Voidz

Electra Heart by Marina and the Diamonds

RWBY Volume 1 Soundtrack

Future Present Past by The Strokes

The Desired Effect by Brandon Flowers

Vheissu by Thrice
Top Songs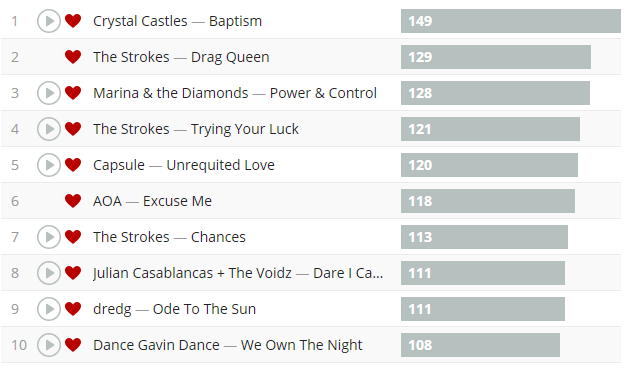 25 Before 25 Goals
It's been one year since I posted my 25 before 25. Time to do a yearly review. I'm now 23 and I have two more years before I turn 25. The pressure is on!
1. Graduate from university
I'm working on it! I will be graduating in April 2018. I originally thought I would have graduated by now but some of my first courses no longer count to my degree. Unfortunate, but true.
2. Move out of my parents' house
Not there yet. Waiting to graduate and get my first job. I have saved enough (I think) to move out but it's not a good idea to move out without a job.
3. Max out my TFSA
Slowly chipping away at this. I contributed around $11k out of my $30k. With the new year, I have $25k left in my TFSA. I could do it… Right?
4. Open an RRSP account
Nope not yet. First job first.
5. Get a full time job in my field
Soon… Soon… I've been updating my portfolio and resume and looking through job posts. My start date is still far in the future but I'm determined.
6. Read 150 books/50 books per year
I barely made it this year! I read more manga than I would have liked and non-fiction. I still need to get going on my to-read list.
7. Finish the Dragon Age series
Absolutely 0 progress on this one. I can't believe I'm procrastinating on playing a video game!
8. Make my own TCG
Ditto with the above. I think that would be a good portfolio worth project. Maybe throughout the semester.
9. Finish my Pomodoro app project
Not much progress on that either. Github says my last commit on that was in March 2017. So not a total failure.
10. Make a book review website
Still in my backlog… I will get to it!
11. Get my driver's license
I think I might have to call it quits on this goal. I do not have the constitution to drive. I am too anxious, nervous, and space headed for me to be safe.
12. Make friends outside of the tech bubble
This is so hard. Most of my socializing this year was with my fellow interns and people in my degree. It's hard for me to relate to or get along with people who aren't at least a little bit nerdy like me. I will say however, there is one person that I've getting along with lately and she is not a nerdy geek at all but she is friends with a lot of them. I've known her for a while but never really fully went all in to the friendship.
13. Get fit
I did okay in going to the gym this year but stopped halfway. It would be nice getting back to the gym.
14. Floss more regularly
I never remember to floss. I have now put it as a recurring card on my Trello board so it has to happen.
15. Drink. More. Water
Hmmmm. Not a lot of progress on this either. I think I'm actually drinking less because I keep forgetting to bring my water bottle everywhere. Not anymore!
16. Learn how to actually cook
I've done some cooking this year when my mom left for the Philippines. Not a whole lot. I've been baking more than cooking. Baking is so much easier…
17. Travel internationally without family
This one I came close to. I went on my first airplane flight without any of my family. It wasn't international, however, just across country. Now that I think about it, it's probably better that way, right? Baby steps. It was amazing. I love flying and going to new places.
18. Konmari ALL of my things
Thankfully, this is something I've gotten started with. I have Konmari'd my clothes so far. I still have a good chunk left to go through.
19. Get drunk for the first time
I got tipsy this year. Baby steps.
20. Get my CCNA certification
After working in a networking role, I will pass on getting this certification or downgrade it to a CENT certification. I did like the work but I really want to flex my programming skills.
21. Attend Zoo Lights
This is happening this weekend!!! Woo hoo, first thing off my list.
22. Get a grasp on my depression
Slow and steady progress on this. I have been going to counselling and group therapy which has been helping. There are times when I slip but it's all a process and it won't always be linear.
23. Continue my pen pal relationships
This has been put on hold because I can't afford a P.O. box at the moment and my parents did not take to me using our home address to write literaly strangers. I can understand it.
24. Go to a concert
I've been regularly browsing who's been coming to my city and I don't know/like any of these artists/bands! I must be getting old.
25. Make a dent in my to-watch movie list
Step 1. Make the list first.